W. R. MEADOWS

W. R. MEADOWS delivers one of the broadest lines of premium-grade construction products available to architects, engineers, contractors, and building owners to meet a multitude of construction application needs. Our extensive line of high-performance, premium-grade construction products has been developed for use in, on, around, and under concrete.

W. R. MEADOWS was founded in 1926 in Elgin, Illinois, USA, by W. R. "Bob" and Edna Meadows. In the 90 years since the founding, the company has grown to include nine branch locations and three warehouses throughout North America. To this day, W. R. MEADOWS remains family owned, with several family members involved with the day-to-day operations of the company.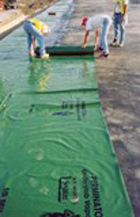 From highway construction and restoration, to waterproofing, vaporproofing, air barrier products, and more, we've been satisfying the needs of the public and private sectors of the building construction industry for years. All of our quality W. R. MEADOWS products are available worldwide through an authorized distributor network.

W. R. MEADOWS has always been concerned about the environment. Nearly two decades ago, the GREEN LINE® of environmentally responsible products and systems for concrete performance was introduced. We remain committed to producing environmentally friendly products and systems that meet or exceed the latest EPA standards and guidelines. W. R. MEADOWS is a member of both the US Green Building Council and the Canada Green Building Council.
About Us
W. R. MEADOWS, INC. designs, manufactures and markets high quality products and systems for today's construction professionals. Products are sold through our authorized distribution network. We have multiple branch locations throughout North America, and our products are available in overseas markets as well.
Learn More
Green Building
W. R. MEADOWS is committed to producing products and systems that are environmentally responsible, meet the most current federal, state and local rules and regulations, and that will have a positive impact on the environment for both current and future generations. Our products are designed to protect your work and our world.
Learn More